HAROLD "BUCK" WEAVER
LETTERS (TO MAYNARD DIXON)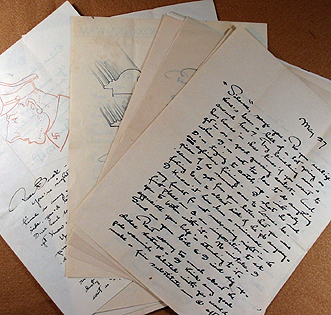 An archive of letters from Maynard Dixon to "Buck" Weaver, whom Dixon facetiously addresses as "Buckingham" in one instance and a telegram from Edie Dixon informing Weaver of Maynard Dixon's death. This file of Dixon correspondence is from the estate of a Los Angeles physician, Dr. John H. Urabec, who must have acquired the file from Harold Buck Weaver's estate. Though the date on only a few of the letters includes the year, it appears that they were all written during the 1940's up to the time of Dixon's death. Dr. Urabec's collection also includes a Weaver line drawing, which can be seen in the Gallery section on this website. From the correspondence, it's clear that Dixon relied heavily on Buck Weaver as a trusted representative in LA and also for framing many of his works, installing a mural somewhere (apparently Southern California). The archive consists of 34 autograph letters (2 with integral pencil sketches), 2 telegrams (1 of which notifies Weaver of Dixon's death from a heart attack) & several cards to artist Harold "Buck" Weaver. Letters are variously signed M.D., Maynardo, and E[die] & M. Printed death announcement with poem by Dixon and his thunderbird device on front. Crayon sketch of a mesa, 4.5x6.5 cm. 8.5x8 cm. blank of the image which became the bookplate for "Western Americana Collection of R.F. McGraw." Dates do not include year, but most from Mount Carmel, Utah and Tucson, Arizona in the several years preceding Dixon's death in 1946. Harold "Buck" Weaver, 1889-1961, took up painting after an injury sometime around 1920 and was assisted and tutored by Dixon. Weaver acted as a representative for Dixon in Los Angeles and saw to the framing of paintings—there is one elaborate sketch of the desired frame stock in this archive—to the installation and final varnishing of a mural that Dixon executed for installation in Los Angeles. The letters reveal a close working relationship. Dixon freely reported his mood and health to Weaver. Two of the letters have integral sketches, caricatures of a Nazi drawn to resemble the profile of an orang-utan and a frontal sketch of a Japanese soldier resembling an imbecile. Occasional chips and small tears, but generally very good and all clearly legible.
Catalogue entry and further information from Sale #4: The Library of the late John H. Urabec, M.D., of La Canada, California, Part I, February 11, 2003. Reproduced by Kind Permission of Douglas Johns, Johns Western Gallery, San Francisco.
I would love to have these included in my website and it would be great if the new owner could contact me in this regard.
TOP BACK TO CONTENTS BACK TO ARCHIVES